BUSINESS EDUCATION MEETS HOLLYWOOD!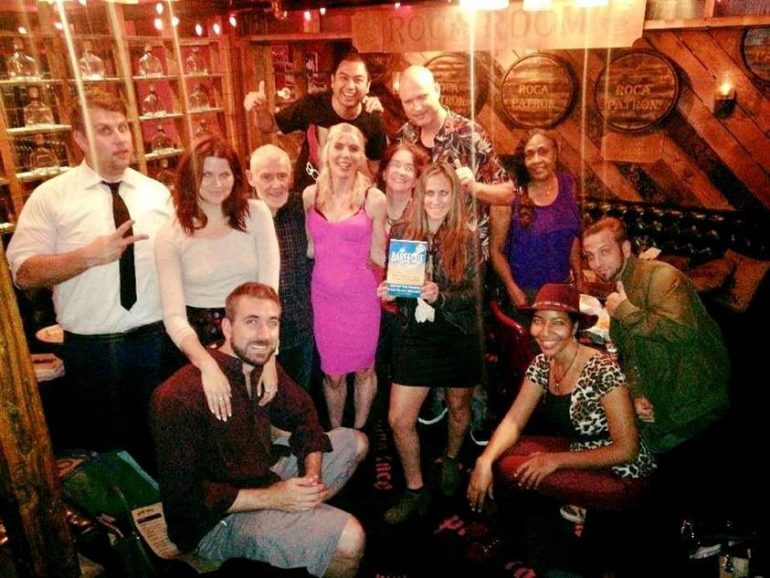 Last night at the Pink Taco, on the Sunset Strip in, you guessed it, LA, a very special group of Hollywood actors gathered in a reserved table for a very special celebration. The production they had been working on for over a year was finally completed and launched. They were celebrating! And well they should! What they have been working on is no less than a breakthrough in business education, a new application of experiential learning, and the creation of a whole new genre of business audio books, Business Audio Theatre.
The actors weren't in a movie, but they were in a "movie of the mind." They performed in cinematic scenes with sound effects and an original musical score. They acted out real life situations that occurred in the early days of the founding of what is now the world's largest wine brand. And they did it all in audio, where an outstanding female narrator set up the listeners for each scene with descriptions of the sets, the challenges, and the mentality of the characters. This was a private launch party for the Sherwood Players who produced The Barefoot Spirit Business Audio Theatre.
We are very proud of the professional job they did as performers. They definitely brought our New York Times bestselling paperback to life in a new, fun, and exciting way. Some of them are starting their careers. Others are seasoned veterans. We hope this opportunity will help them all move forward.
The venerable Ed Asner plays a very convincing skeptical supermarket buyer who originally refuses to take on Barefoot Wine, but ultimately paves the way for its success. Gigi Perreau, the longtime Hollywood actress who actually performed on original radio theater, plays Mabel, Bonnie's mom and a WWII Rosie-the-Riveter, salt-of-the-earth type, who comes to live with us and pitches in with physical and emotional support.
Our narrator was Alamada Karatihy who beautifully carries the story through all its ups and down, twists and turns.
Interestingly, one of the actors, Tom Malloy wrote his own business book, Bankroll, to help Hollywood actors gain financing for their projects.
The original musical score was the brainchild of Tyler David Gilbert who also did a masterful job of editing… and re-editing! Thank you Tyler!
But like any team, its performance is only as good as its coach. In this case our director, Matt Weinglass, was responsible for leading his troupe! Matt understood what we were trying to do, which was to bring our business biography to life and demonstrate through dramatic performance – and a generous dash of humor – key business principles that can help others succeed. He artfully and skillfully brought all the pieces together to create continuity, purpose, vision, and team spirit. And after all, that's what the story is all about …spirit!
Many thanks to Sherwood Players Productions and our dear friend and colleague Ryan Foland, who encouraged and supported us in this new venture!
So now it's up to you. We produced this new style of business audio book in the hopes that more of you would benefit from the many lessons we learned the hard way – so you don't have to! Just experience what happens to us in this modern seat-of-your-pants, cliffhanger adventure story about a brand you know. We'd love to get your comments and we would be thrilled if you would recommend it to your friends who can benefit. There's ten, 40 min chapters with a short "live" interview with us at the end of each, perfect listening for your next jog or commute.
Hear a few scenes from The Barefoot Spirit, now available on our Author's Direct page and at audiobook retailers everywhere!
To your success!
M&B